Cape Town Waterfront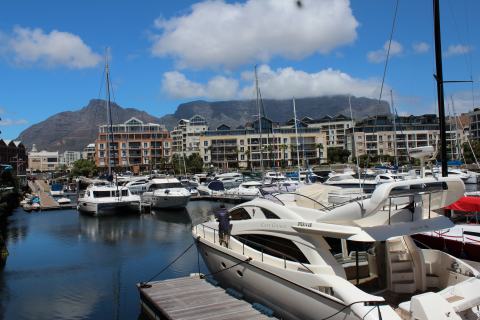 What's Great about Cape Town and it's Waterfront?
The location is a mere 10min walk to the international V&A Waterfront shopping centre, with Cape Town's finest restaurants at your fingertips, as well as a grocery store. Water taxis can be taken to the centre of town. Just on the other side of the mountain, 15min by car, takes you to Cape Town's most beautiful beaches in Camps Bay and Clifton.
A challenging golf course, at the base of the iconic Greenpoint Stadium, is just 2 minutes drive from your apartment.  Take your family to the Cape Town's amazing Two Oceans Aquarium, just 10 minutes walk away, and see their massive tanks filled with sharks and other marine predators, but also colourful tropical displays of sea life.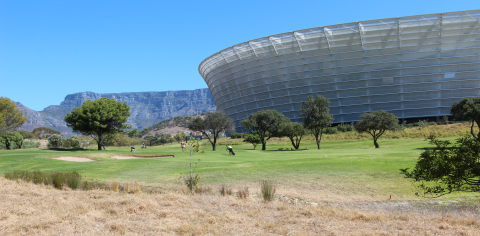 Cape Town Seasons
Most tourists visit Cape Town during the long summer from November to February. A Mediterranean climate with little rain, 11 hours a day sunshine or more and long sunny evenings sets a party mood. The Californian weather explains why Cape Town has become a favoured site for foreign film and TV crews escaping from the Northern Hemisphere winter.

In recent years, the normally prevailing summer south-easter wind, the famous Cape Doctor, seems to have abated. Maybe El Nino or global warming is to blame. If the wind does blow and you're after a tan or the beach, remember that mornings are usually much less windy, and that certain beaches (Clifton, Boulders) are much more protected than others.

Conventional local wisdom used to be that spring (September and October) and autumn (April and May) are the smart times to visit Cape Town. They are usually balmy in-between seasons, with little wind, when nature is at its showiest. If you're into flowers or whale-watching, or seeing the vineyards at their best, these are great seasons to be in the Cape.

Whatever season you have chosen to visit Cape Town, be warned of the old joke. Cape Town has four seasons - sometimes in the same day. This is especially true if you plan to go hiking or be outdoors.